Today, I am going to mildly exaggerate my journey to Gosaikunda. For those of you who do not know about this destination. It's located in Nepal, located at an elevation of 4380m (14,370ft) in Rasuwa district of Nepal. Gosaikunda, is an fresh alpine water formed lake in Langtang Region.
The lake melts to form the Trishuli River; it remains frozen for six months in winter October to June. There are 108 lakes in the vicinity. This is a must visit destination for enthusiasts who love to travel. Kunda is also known as translation for the lake/pool in Nepali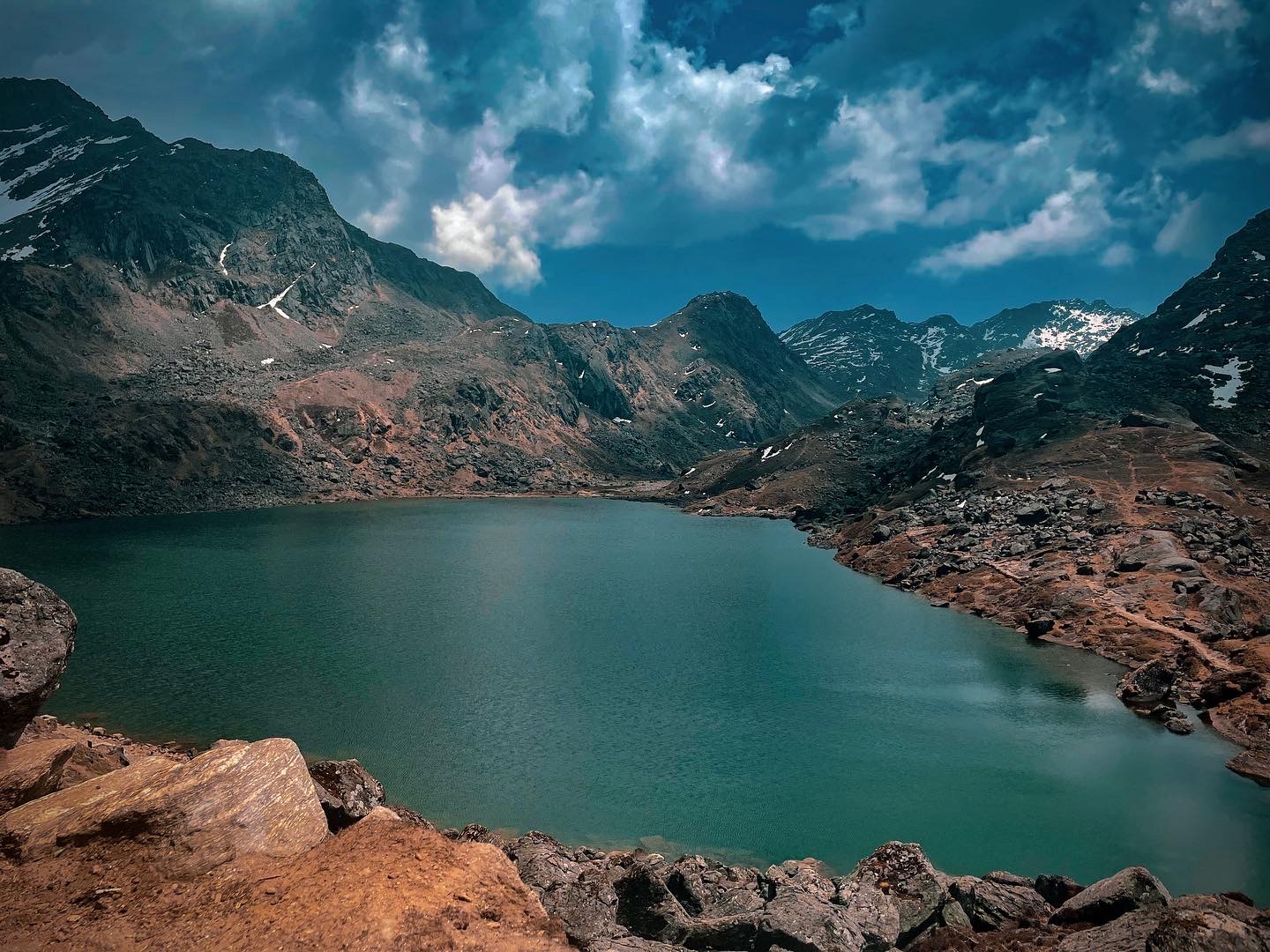 Our journey started on Baisakh 3rd, 2079 ( April 16th, 2022 ), Saturday – Since, this was new year's time in Nepal, I and one of my colleague had planned this for about a month or so but we weren't sure we were going at all because of being busy in life with work and all. We were not sure we were going upto April 15th as well. However….. so, let's start our journey from the beginning.
The Nature's Call:
It was Friday (April 15th, 2022) and it was I think around 12:00pm or so – We were at our office doing work, for this trek I did ask some of my friends whether they would like to join but none agreed and the only people left were me and Umesh dai from my office. So, Umesh dai and me had decided that we would go to Gosaikunda and I did some research on the itinerary as well as when it would be perfect time to visit Gosaikunda. Some people did scare us by saying that it would rain alot and we would have alot of difficulties during this time.
So, we were also not quite interested on going to be honest but our moods changed on the last day and we finally decided to go even if we were only two people. To be honest I am just a new traveler, I have been going to hikings and trekkings but it has just been 2 years or so that i started and also, there are only few places that I have gone trekking to so, I would call myself novice – same goes for Umesh dai who was going to join me. So, we decided to take the risk, enjoy the nature and go with the flow.
Eventually, on Friday we finished our office and went home to pack our stuff for trekking. I mean i already have all the gear I need for trekking so, all I needed to pack was my clothes and gears into one place. We decided to stay at office on Friday so, that we can easily have access to road in the morning next day as my home is far from center area. So, we came to office after packing our stuff from home and slept there. This was the nature's call to us.

On the Road:
The first day of the trip, we had to take the bus route Dhunche which was the starting point of our trekking. We woke up around 6am ( we are not morning people so, 6 is very early for us 😛 ) – got ready and packed our bags, doubled checked and started our trip.
Even though we did not finalize the trip soon, I had done my research about the trip so, we knew where to take the bus and where it would drop us and where the trip started from. So, we went to "Macchapokhari, Kathmandu", where the bus for Dhunche would be found. Took tickets and started our trip. About the bus, trip was Okay'ish as the bus had adequate comfortability in terms of seats however, it always stank. Well, i could not expect more here so, no more rambling – and then we started our journey by bus. We departured around 9:30am in the morning from Kathmandu and reached around 4:30pm in Dhunche – As soon as we reached Dhunche area, it was cold that I needed to wear my jackets on and the environment changed.
It's always the environment that gets me when I go outside the valley. It's always healthier due to less pollution outside the valley. Since, I was born in the valley – it kinda sucks sometimes but it is what it is, no remorse. Anyway, we reached Dhunche and we were hungry so, we decided for quick meal before we stretched ourselves. Since, we had some time and the sun was still up, we planned to hike for a bit so that we can stretch our legs for the next day but !!!
Start of our Trek
After reaching Dhunche and walking down a few distance, you will see a board such as below where it pretty much gives you an idea of what the trek would be like. You will see 3 intersection roads – left one being going to Langtang and the right one to Gosaikunda. So, back to but – we were hungry so we sat down at a restaurant there to please our tummy because we saw some people eating there.
Well i will never suggest that place – I do know that mo:mo's are never great outside kathmandu valley (personally for me), I forgot that day about this fact and boy I regretted. Although the tea was good, but my tummy was not pleased – however, I did force myself to finish the plate because I was hungry af.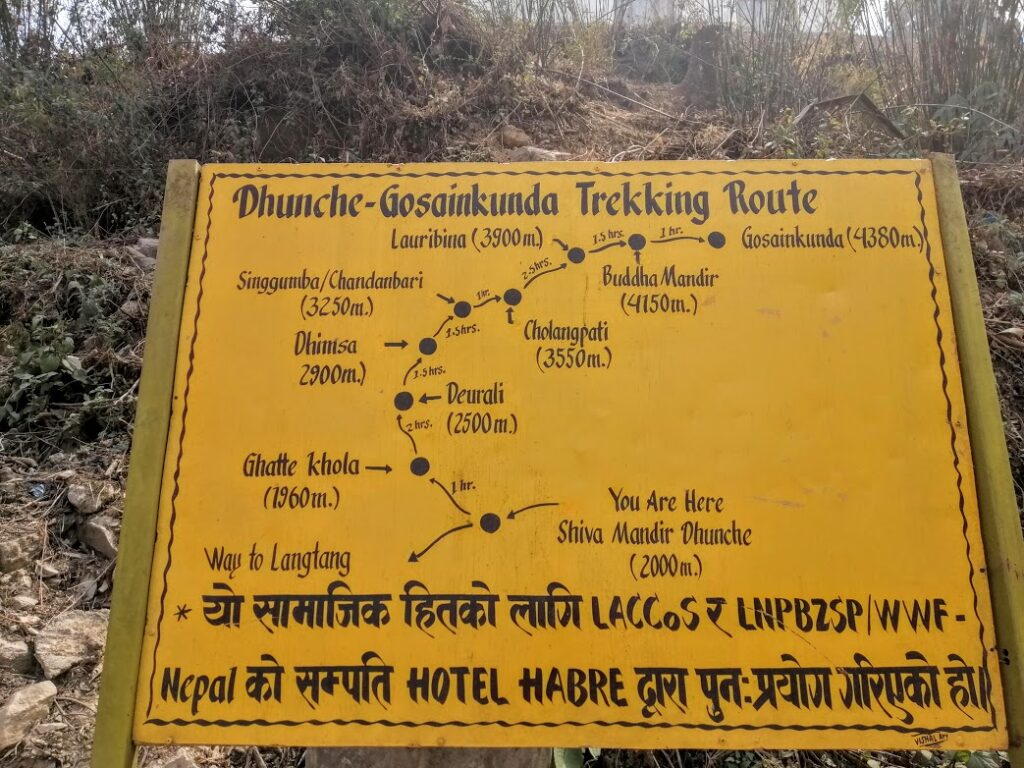 So, completed our tea and lunch and started preparing for the stretch. We started our trek from here on Saturday, April 16th 2022
Gosaikunda Trek is one of those trek which i enjoyed alot – the pathway and route was very pleasing and the view was of course astonishing. At the start of the trek you will start to enjoy the trek because you are suddenly combined with mother nature from the start of the trekking route. I and Umesh dai were so pleased to see it, although we knew there would be harsh paths along the way but we were motivated.
Our start of the trek looked like this. It was awesome, remembering this now makes me wanna go back there again. So,  the first day we walked for around 45 minutes and reached Ghatte Khola. We stayed at a hotel there the first night. Hospitality is always nice and the owners were very nice to us. There was no internet at the time we went there but they were saying that internet was coming in next few days. As, the name says the location had continuously flow of water which made it very special and entertaining. Especially, motivated to start the trek. We had taken 4 half khukuri rum for the trek as this was mandatory for us. We drank 1 half the first day and ended our night early and gathered was energy for the next day.
Ghatte Khola to Chandanbari
This would be our first day of the trek for us. So, we woke up around 6 am and prepared ourselves – had small breakfast and started our trek around 6.45 am, If we started late we knew the sun would hinder us on our trek so, we tried our best to start early. Eventually, it was not too late nor too fast.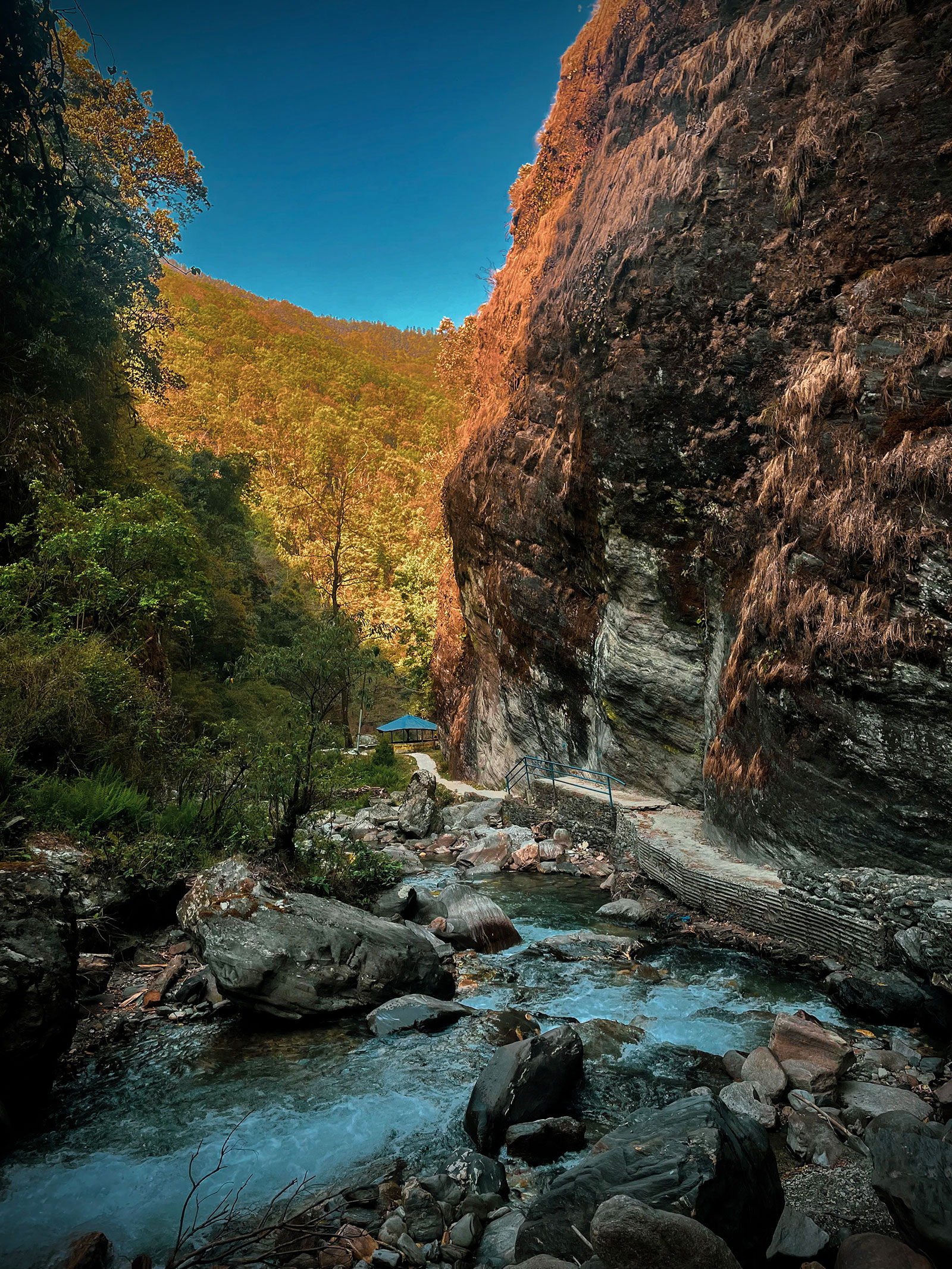 This was the photo taken on our first day of the trek. Pleasant view eh ? We were so excited and had full energy. It was uphill climb first day as we needed to reach 2900m from 3250m the first day. We were initially planning on reaching to Lauribina(3900m) the first day but could not due. Umesh dai was tired so, we could not walk anymore and the wind was so strong in the evening time. So, we decided to stay at Chandanbari the first day. We had taken a Ukelele and enjoyed our night there. Hotel at Chandanbari was nice too.
The trek to Chandanbari did take some toll on us but more on Umesh dai so, we were so tired. At the end of the day I even had a minor headache, I was afraid that it might have been because of the height but it was not. Maybe due to dehydration, it was gone the next morning as I did take some medicine as well. During our visit there were not many trekkers which made us easier to get rooms and enjoy ourselves. There is complete uphill trek during this trek and can be very difficult for some but saying that, it does not mean it is impossible for anyone. It's comparatively easier to other treks I have been to.
So, we ended our first day of Trek at Chandanbari with a touch of 1 half khukuri rum as well as so called mustang coffee which is equivalent and also known jwai khatte
Chandanbari to Gosaikunda
This was technically the 2nd day for us. On April 18th, 2022 we started our 2nd day of the trip, we were a bit exhausted on this day as we climbed alot during the first one and as I said before, we were novice climbers so, it's usual stuff to be like this. On our 2nd day we took some time to prepare ourselves, we even woke up around 7 am and only started the trek at 8 am. We asked the locals there about how much further we would need to go and they said we would reach Lauribina by 2 or 3 hours and from there it would take 2 hours more but that would not be the case for non-locals as we all know.
So, by this day our excitement level was a bit lower than before but certainly not that much. So, we climbed more mountains. We met alot of travellers as well, it was certainly a pleasant trip as i remember now. After some walking, we met our hardest challenge of the trek "Lauribina" – this location seemed easy to cross but let me tell you it was not. At first we had to walk on scorching sun due to late start which was so excruciating and second the route was simply exhausting AF. It was straight plan uphill on scorching sun. While this route looks easy by looking at it from far distance, let me tell you its not. At all and if it rains then it's going to be some pain to cross. Thankfully it never rained for us on our whole trip except for the last day which was very refreshing for us. below picture is taken from "Lauribina"
The name "Lauribina" came into existence because of the fact, people not being able to cross the path without a stick – in Nepali "lauro" being the stick, "bina" meaning "you cannot", although the route was improved from how it was many years ago so, its comparatively very easy right now and new trek routes and pathways are being constructed here which is also a bonus point plus amazing !!!
Overall, the exaggeration i just explained above might not be similar 😀 . After you cross lauribina – this is when you start to see alot of nature and this trip actually becomes worth it for you. You begin to see the mountains and the level of route maintenance is amusing. First thing you will see is, you walk on small pathway and at right side you will see mountains with snow and the air breeze adds extra taste here. If you walk here without a wind cheater then you will be doomed for sure as your voice already starts to crack with the extra padding on your body.
Since, i cannot explain you the whole picture of the location – here is one of the picture i took of the path. Amusing right ?
Gosaikunda is the real deal
As, you start to walk down the paths like shown in above picture your feet starts to move automatically because the destination is not too far. Your body is exhausted but your destination is the big thing so your motivation comes automatically. This is what happened for me in the last few miles of the trip. At first you see "Saraswati Kunda"  – which is like a starter for you. It get's you excited and motivates you for the big fish.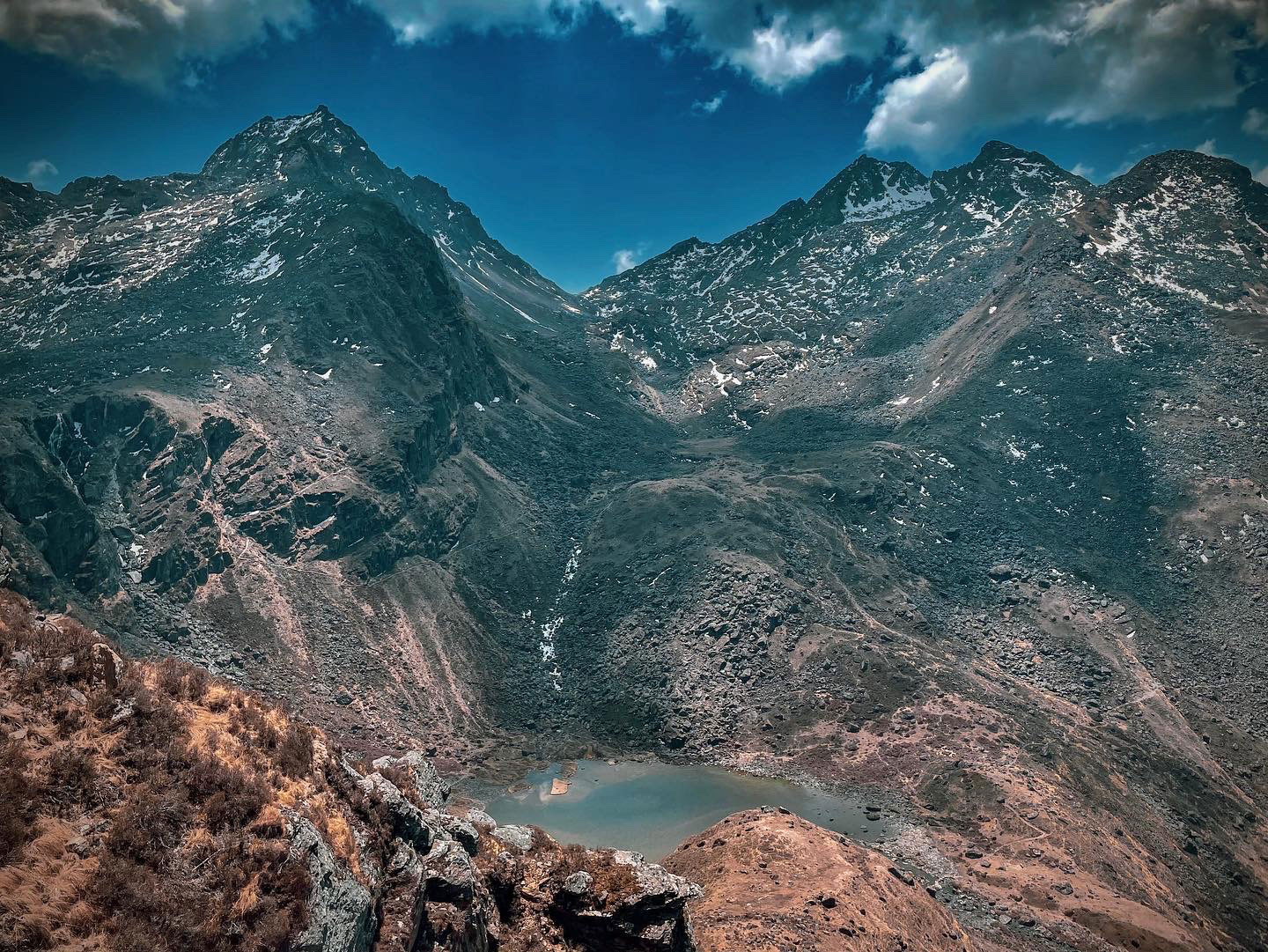 After you see Saraswati Kunda you begin to expect to see more but let me tell you honestly, it takes time and effort to reach. It took about 1 hour more to reach Gosaikunda for us after seeing Saraswati kunda.
Before reaching Gosaikunda you will start to see Bhairav Kunda which is magnificent. It takes another breath out of your soul. I stayed there for a while admiring the beauty of the lakes as so did Umesh dai but he was mostly exhausted haha. I was eager and had ran a big ahead of him this time. This whole trip I had motivated both of us but this time it was the natural beauty that motivated me here and then.
So, finally I gave my final push and reached to the top of the lake and saw the magnificent Gosaikunda.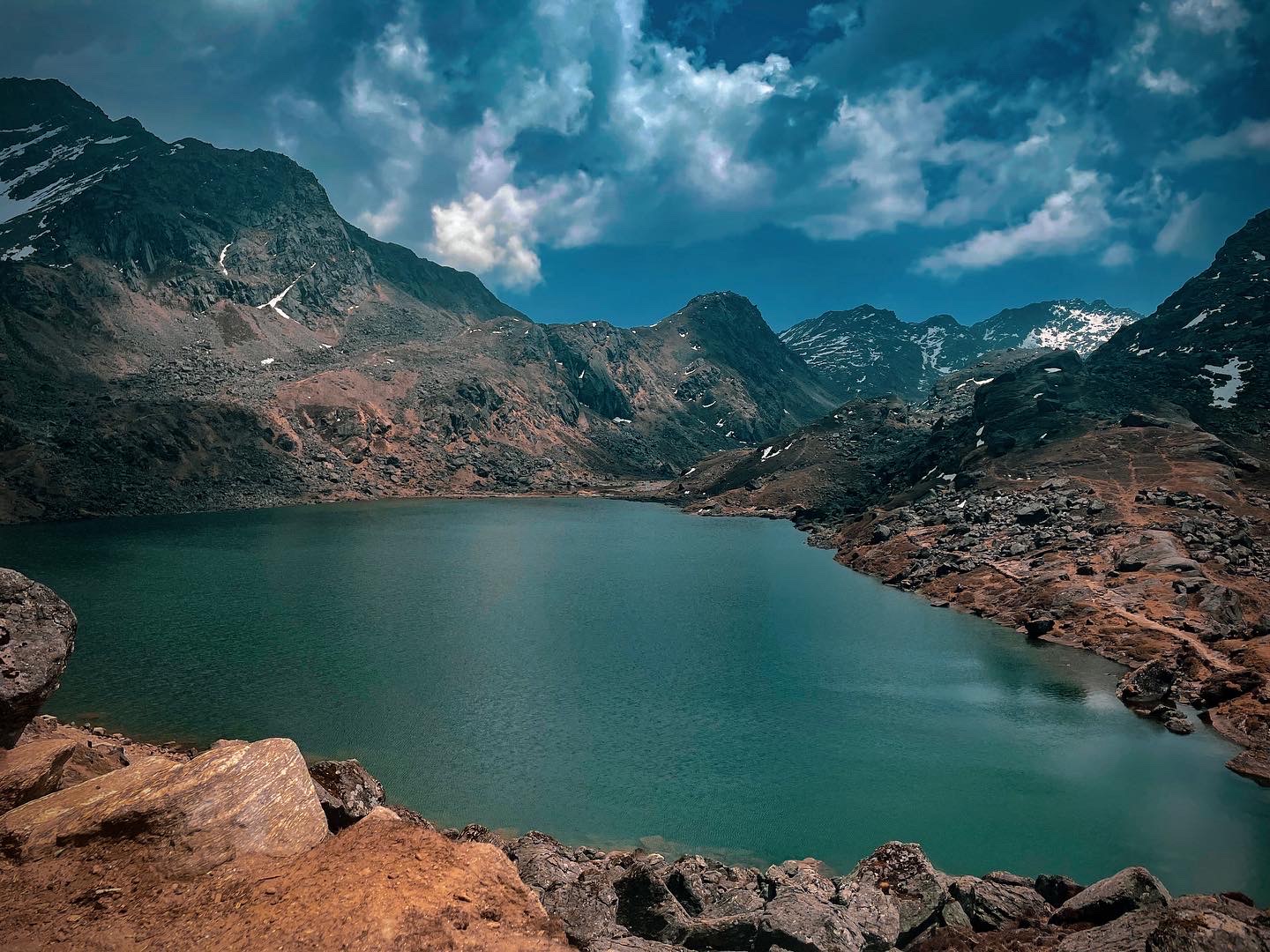 Umesh dai also eventually came to the top and we both had laughs and cheers about how we conquered this trek finally. We had taken a victory cigar but we kinda broke it (uggh) and could not experience it the right way. Although, we went to the lake and took pictures, heck Umesh dai even gave a swam on the lake. It is said that swimming there would wash away all your sins. However, I am a bit sceptic in these kinds of things plus I kinda don't know how to swim so, all i did was splash a bit of water into my head and carry on….
We stayed at the lake for some time – I think we reached there around 4 pm this time around and had some time to work around this. The most amazing fact here is that the hotel we stayed had an actual Wifi – like a genuine fast wifi, none of the other hotels below had wifi but in the top it had one.
The winds were very strong so we went back to our hotel and there we had our lunch met a foreigner with whom we had whole night conversations and it was actually fun. He was from Israel. I kinda forgot his name since it was hard to pronounce. We had our another half of the rum and gave it a night. Also, at night it gets very cold here. We wore thick clothes plus had two blankets but was shivering. I mean it's very cold.
Farewell and Good Memories
In the next morning, everything was new and fresh – since, our worries were gone it was like a new day and fresh day. I was up quickly this day because I was excited to see the beauty from here. Umesh dai had slept a bit more because he said he did not felt sleepy at night so, i did not disturb him. Anyway, later we had our breakfast and bid farewell to our Israeli friend, he was going to do the circuit but our plan was to return from the same path we went up. Maybe some next time I am planning to do a circuit here.
So, we took our breakfast, stretched and bid farewell to Gosaikunda – Our downhill battle was so easy as it seemed. I having some experience of it had a bit easy here it seems as downhill can get very dangerous unless you walk with your pace and experience. Our plan here was to come straight down to Dhunche from Gosaikunda.
We did succeed in this and man i remember this moment alot – it was painful but worth it. Umesh dai did have some trouble when coming down all the way from Gosaikunda to Dhunche as he was so tired he could not walk anymore and so was I. However, we made it to Dhunche successfully and slept sound sleep that day. 
Overall, it was a good trip to remember and alot of good memories. Anyone who is planning to do this trek should definitely do it, it's worth it. However, if you don't have the habbit of walking, I would suggest to first get your legs some exercise before you go into this trek. Better be prepared than to fall short.